Measurement Cryostats
We manufacture measurement systems for various kinds of experiments. and we provide many kind of options and accessories for your measurement equipment.
Please consult our manufacturing department for more details. Our measurement specialists will be offering you optimized measurement solutions.
Measurement systems at our manufacturing department include:
- Offers optimized design for your research.
- Resistivity / magneto-resistivity / Tc / Heat Capacity Measurement systems.
- Hall effect / MOKE / PL & EL / Raman Measurement systems.
- Non-magnetic sample rotators.
* Customized measurement table.
- Performance test to designed specification.
- Full factory warranty.

Heat capacity measurement using a cryostat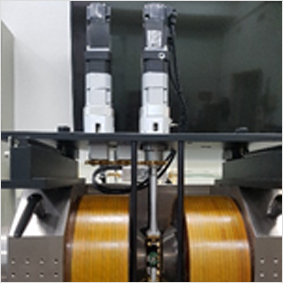 Hall Effect with angle rotation (developed with (Korea Basic Science Institute(KBSI))